How in the world would I plan my reading year without reading challenges?
I've decided to join more this year than I have before. Usually I don't sign up for challenges that are hosted by other bloggers. I have a strong tendency to starting a goal and then falling very very short. This leads to that guilty feeling that no one really enjoys. However, this year, there were way too many challenges that I was super interested in that I couldn't deny them. They called to me.
Every year I try to read at least 50 books. I have yet to do it. I try, but life, it gets in the way. I also try to complete the Alphabet challenge. I have come close a couple of times, but again, never completed it. I will this year though!
Here are the other challenges that I plan on entering:
iChallenges hosted by Book Soulmates:
In this challenge the participants are to read at least 10 fae,witch,were, or vamp type novels and post reviews.
The reasons I joined this challenge: First, I <3
The other reason that I decided to join this challenge is because I want to branch out and read more books in these genres. I stick to Karen Marie Moning when it comes to Fae and Kenyon for Vamps and Were's. If I have a goal of reading ten of these types of books, I'm going to have to find more authors. I can't wait!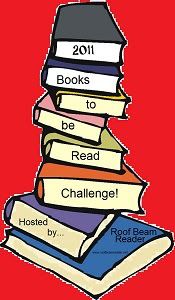 I've already posted about Roof Beam Readers 2011 TBR challenge, but I feel it's worth mentioning again. I'm psyched to read the books that I've picked for this challenge because of course they are 12 books I've had on my TBR for quite some time. Some of them I just recently got my hands on, but I've been wanting to read for at least a year. I just checked the Roof Beam Readers blog and many more people have signed up for the challenge. I'm psyched to join this particular challenge and am urging my friends to also join.
The Ireland Reading Challenge caught my attention quickly. My favorite author Morgan Llywelyn writes Irish historical fiction and I love her so much it's sick. I'm going to join this particular challenge at the Luck o' the Irish level. This means that I'll be reading 4 books that are either Irish fiction, written by Irish authors or just involve Irish characters between January 1 and November 30.
I think this is a great idea, and for those of you who love historical fiction, or just a good Irish accent, this is the challenge for you!
This is the biggest challenge that I've joined this year, with 20 books being the goal. Part of the reason that I joined this particular challenge is that I will not have to buy many books, or even get many off of Paperbackswap. My love for a good Highlander and his sexy kilt is never ending. So the idea of reading not 10 but 20 books about them in the next year sounds just delightful. I recommend all my romance reader friends check out this awesome challenge.
So, if I add up all the books from the blog challenges I should have no problem completing my 50 books, or my Alpha challenge for that matter.
I'm excited about all of these challenges. I'm excited about having incentive to read when I get in a slump.
What challenges are you joining this year? What's your incentive to join these challenges?