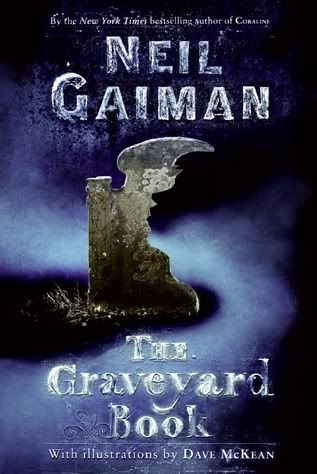 The Graveyard Book by Neil Gaiman
ISBN: 978-0-06-053092-1
Pages: 307
Inside Flap Description:
Nobody Owens, known to his friends as Bod, is a normal boy.
He would be completely normal if he didn't live in a sprawling graveyard, being raised and educated by ghosts, with a solitary guardian who belongs to neither the world of the living nor of the dead.
There are dangers and adventures in the graveyard for a boy--an ancient Indigo Man beneath the hill, a gateway to a desert leading to an abandoned city of ghouls, the strange and terrible menace of the Sleer.
But if Bod leaves the graveyard, then he will come under attack from the man Jack--who has already killed Bod's family....
Beloved master storyteller Neil Gaiman returns with a luminous new novel for the audience that embraced his
New York Times
bestselling modern classic
Coraline
. Magical, terrifying, and filled with breath-taking adventures,
The Graveyard Book
is sure to enthrall readers of all ages.
My Rating: A+
My Review:
The Graveyard Book is another wonderful tale by Mr. Gaiman. I was delighted the entire time I was reading it, and couldn't stop telling my friends bits and pieces of the story.
I loved Bod and struggle with him at times when he was trying to figure out why certain things didn't go the way he thought they were suppose to. I thought that his character was extremely well rounded and loveable. I loved the fact that we got to watch him grow up and that at times he made decisions that I wouldn't have, but in the end I figured out why.
The secondary characters in this novel were amazing. Any person who likes history will love them. The way that they were used in the novel was genius and the way that they cared for Bod was genuine.
This is the first book in a long time to surprise me. At one point I actually gasped when something I didn't expect happened. I swear to you that my heart lept a little. That's how wonderful a writer Neil Gaiman is.
I reccomend this to all lovers of Neil Gaimans work, and to all people out there looking for a slightly skewed coming of age story.