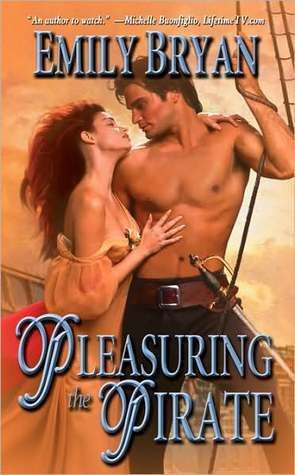 Pleasuring the Pirate by Emily Bryan
ISBN:978-0-8439-6133-1
Pages: 302
Back of Book Description:
All it took was a flick of the wrist. A deft touch of his sword point and Drake the Dragon bared her bound breasts. Then with the heat of his hands along her skin, he bared her soul. All the wantonness Jacquelyn had denied herself as a famous courtesan's daughter, all the desire she'd held in her heart while running Lord Gabriel Drake's estate flooded through her at his touch. Not that she could let a bloody pirate know it.
Gabriel may have left his seafaring days behind, but his urge to plunder was stronger than ever. Especially if it involved full, ripe lips and a warm, soft body. Unfortunately, he needed Jacquelyn's help, not her maidenhead, to learn how to behave properly toward a lady so he could marry and produce an heir. yet Mistress Jack was the only woman he wanted, no matter what her heritage. And everyone knows what a pirate wants, a pirate takes...
My Rating: A+
My Review:
Oh! I can't express how much I loved this book. I read it in a day and couldn't get enough of it.
One of the best parts about this book was the humor. It wasn't a forced type of punch line, humor. But mostly sweet and genuine. There are 5 characters that will steal your hearts, the hero's nieces. I've always loved children in romance novels but this was done so well, I was almost more in love with them than the hero and heroin.
But, the main characters were the most impressive. Gabriel is a strong and passionate hero, but he doesn't have that dark broody mean streak that many historical hero's have. And Jacquelyn is a kind and loving heroin, who has real issues, instead of the superficial ones that usually makes ones eyes roll.
All the characters (even the secondary ones) are well rounded and the story itself was obviously well thought out. I can't wait to read the next book by Miss Bryan.
I highly recommend this to all romance lovers out there.