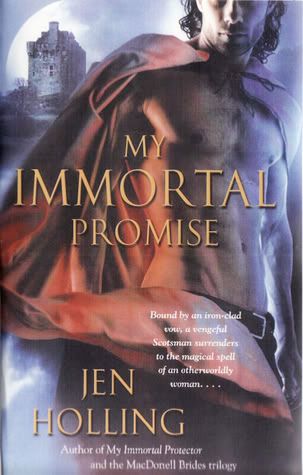 My Immortal Promise by Jen Holling
ISBN: 978-1-4165-2586-8
Pages: 326
Back of Book Description:
Drake MacKay is no stranger to the double-edged powers of blood witches. His own niece Deidra and his best friend were saved by a baobhan sith: Hannah O'Shea, the same spirit who would not heal Drake's dying wife. nearly consumed by grief and fury, Drake is nevertheless bound by an unholy promise: for those she gave life, he has pledged his own.
Returning to Hannah's remote isle, Drake is stunned to be released from his obligation. And when he overhears a violent plot stirred up by villagers, he finds himself irresistibly called to warn her-- and escapes with her into the night. Alive for more than a century, Hannah has found the words of mortal men to be bitter lies. But there is darkness in their shared past, an evil that threatens Drake's family. forced to unite, they discover a fire between them that melts their distrust...and a furious passion that may just save them both.
My Rating: A
My Review:
As I always do, I really enjoyed Jen Holling's newest book. What I enjoyed the most was the type of romance there was between Drake and Hannah. Because of their baggage their love grew with mostly a start from an angry and probably unhealthy passion. But that passion led to letting down the walls and realizing that they were perfect for each other. It seemed a bit more real to me.
I wish that at the end of the book we would have seen more of what happens to them after their demons are taken care of. An epilogue would have been nice, but it didn't take away from the book to not have one.
The only other issue I had with the book was that in the first 50 pages or so, the author continued to point out things that were characteristics of being a blood witch (a vampire) which was pretty unnecessary. But the farther you got into the book the less it was done, until it just never happened again.
All in all a great book. It could stand alone from the first, but I recommend reading the first in the series before this one.