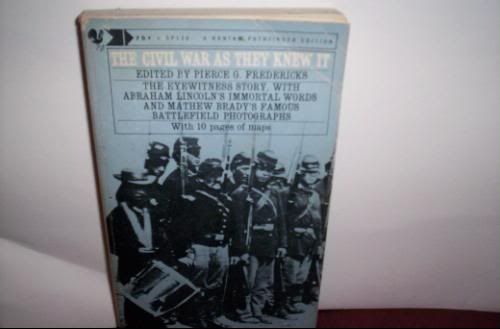 The Civil War As They Knew It: The Eyewitness Story with Abraham Lincoln's Immortal words and Mathew Brady's Famous Battlefield Photographs Edited by Pierce G. Fredericks
ISBN: ?
Pages: 208
Back of Book Description:
Here are Abraham Lincoln's own immortal words--urgent telegrams to his harried generals, consoling letters to grieving mothers, forceful proclamations and history-making speeches. And here are Mathew Brady's realistic on-the-spot photographs--the bloody field at Gettysburg, the dreaded Rebel prison at Andersonville, the ruins of Richmond, the great battles of Bull Run and Antietam, and Lincoln's assassins and there execution. Working from the massive collection of Lincoln's papers and the enormous treasury of Brady's photographs the editor recreates the most awful conflict in American history was these two eyewitnesses knew it.
My Rating: A+
My Review:
This was a great and fun little book. I've always had a soft spot for the Civil War but when I picked this up I really never thought I'd read it, or at least not the day I picked it up. But once realizing that there were many pictures (actually the books is probably 75% pictures I couldn't wait to find out what the words that went with them were.
Basically this is an outline of the Civil War, focusing on the big developments and battles, with tid bits of things that Abe Lincoln wrote in response to these battles. Inside there's the Gettysburg Address and the Emancipation Proclamation. But I found the most interesting thing was the correspondence between Lincoln and both Grant and earlier, McClellan.
The book also led me to ask myself what I thought these men were thinking. The pictures are wonderful and you would be surprised how good they look. The portraits are some of my favorites ever, especially of U. S. Grant and P.G.T. Beauregard.
I recommend that if you can it your hands on this book, you read it. While reading another book it took me about three days, but I also took my time, as I wanted to savor it.
It may be hard to find, notice the home picture of the cover and the lack of ISBN number. The copy I have originally cost .75 and was published in 1966.