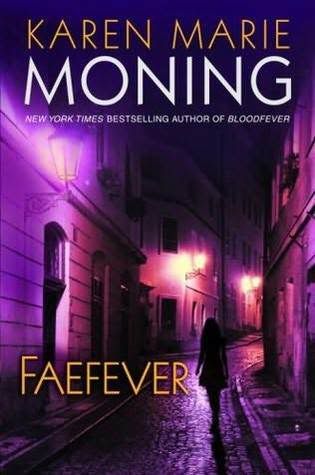 Faefever by Karen Marie Moning
ISBN: 978-0-385-34163-9
Pages: 314
Inside Flap Description:
He calls me his Queen of the Night. I'd die for him. I"d kill for him, too.
When MacKayla Lane receives a torn page from her dead sister's journal, she is stunned by Alina's desperate words. And now MacKayla knows that her sister's killer is close. But evil is closer. And suddenly the sidhe-seer is on the hunt: For answers. For revenge. And for an ancient book of dark magic so evil, it corrupts anyone who touches it.

Mac's quest for the Sinsar Duh takes her into the mean, shape-shifting streets of Dublin, with a suspicious cop on her tail. Forced into a dangerous triangle of alliance with V'lane, an insatiable Fae prince of lethally erotic tastes,
and Jericho Barrons, a man of primal desires and untold secrets, Mac is soon locked in a battle for her body, mind, and soul.
As All Hallows' Eve approaches and the city descends into chaos, as a shocking truth about the Dark Book is uncovered, not even Mac can prevent a deadly race of immortals from shattering the walls between worlds--with devastating consequences...
My Rating: A+
My Review:
This book was amazing. I was trapt inside of it for all 314 pages. It took me longer than I expected to read partly because I wanted to savor it.
The author brings an unsavory world to your eyes easily without forcing it down your throat. The mean and ugly streets of Dublin were easy for me to visualize. She writes Mac's feelings so intensely you can almost feel what it's like to kick some big nasty evil fairy's butt.
The main character and many secondary characters grew throughout this book becoming even more real and well rounded than they were to begin with. Some frustratingly did not.
There is absolutely nothing bad to say about this book. Ms. Moning has almost stopped the annoying foreshadowing that she was doing in the first book and some in the second. This book was like just living someone else life as if it were my own.
I do recommend of course you read the first two before this one, or else not a lot is going to make sense to you.