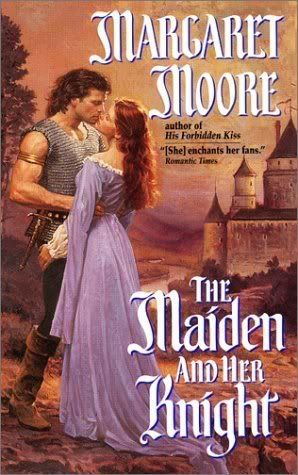 The Maiden and Her Knight by Margaret Moore
ISBN: 0-380-8136-X
Pages: 375
Back of Book Description:
Lady Allis nearly swoons when she first sees the tall, tempting knight at her father's jousting tournament. As the eldest daughter of the family , she is duty-bound to wed someone of wealth and privilege -- and Sir Connor, though mesmerizing, is not only penniless but in disgrace. To Connor this fiery, untouchable maiden is a prize worth fighting for. The onetime hero has little save his pride and his skill -- as a warrior and a lover. But will that be enough to survive castle treacheries, to know the rapturous passion the lady's hungering gaze promises -- and to win her heart?
My Rating: B



This book was an easy read, but mostly in was unremarkable.
The love that 'grows' between the hero and heroin to me seemed to just, happen. It didn't seem to grow at all. He thought she was hot, she though he was hot, so they love each other. I didn't enjoy that aspect of this book so much.
The plots and intrigues were interesting, though predictable. The dialog was good, but not exceptionally so until towards the end of the book. My favorite character in the novel was King Richard, who doesn't come in until the last thirty pages or so.
I gave the book a B because it was well written. It wasn't very original though.