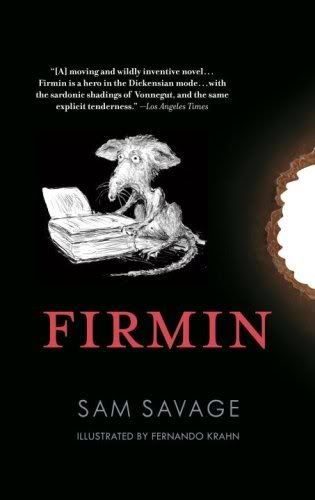 Firmin by Sam Savage
ISBN: 978-0-385-34265-0
Pages: 164
Back of Book Description:
In the basement of a Boston bookstore, Firmin is born in a shredded copy of
Finnegans Wake
, nurtured on a diet of Zane Grey,
Lady Chatterly's Lover
, and
Jane Eyre
(which tastes a lot like lettuce). While his twelve siblings gnaw these books obliviously, for Firmin the words, thoughts, deeds, and hopes--all the literature he consumes--soon consume him. Emboldened by reading, intoxicated by curiosity, foraging for food, Firmin ventures out of his bookstore sanctuary, carrying with him all the yearnings and failings of humanity itself. It's a lot to ask of a rat--especially when his home is on the verge of annihilation.
A novel that is by turns hilarious, tragic and hopeful, Firmin is a masterpiece of literary imagination. for here, a tender soul, a vagabond and philosopher, struggles with mortality and meaning--in a tale of anyone who has ever feasted on a book...and then had to turn the final page.
My Rating: A
My Review
When I first picked this book up and read the back I was quite suer I'd love it. It sounds like a book for anyone who loves to read just as much as I do. it also sounds a bit cutsie and fun.
While it is a 'fun' book, it's not at all cutsie. It can be very depressing at times and also it's a very adult book. I had visions of reading this to my friends kids'. No.
At first I was taken away by the expansive vocabulary used in this novel. As the story progresses it makes perfect sense for the main character to use such words. After a bit of struggle against the vocab to get into the book, the story really took me away. There were times when I was chasing down my friends to read passages to them and times when I was shushing them because the events taking place felt like they were actually affecting me. Exactly what you want in a novel.
The only issue I have with this novel is that multiple times the main character mentions being in a certain place, talking to a certain somewhere, that just doesn't fit into the story line. It did trip me up and kept me wondering what exactly that meant. Other than that I would highly recommend this book to anyone who loves books, or the idea of how a life can be lived. It's a relatively quick read, though not as quick as you may initially think. Unlike most quick reads it will most definitely stick with you.