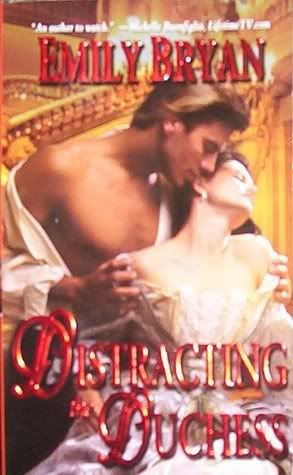 Distracting The Duchess by Emily Bryan
ISBN: 978-0-8439-5870-6
Pages: 306
Back of Book Description:
From the moment she saw the man on her doorstep, Lady Artemisia, Duchess of Southwycke, wanted him naked. For once, she'd have the perfect model for her latest painting. But as he bared each bit of delicious golden skin from his broad chest down to his--oh my!--art became the last thing on her mind.
Trevelyn Deveridge was looking for information, not a job. Though if a brash, beautiful widow demanded he strip, he wasn't one to say no. Especially if it meant he could get closer to finding the true identity of an enigmatic international operative with ties to her family. But as the intrigue deepened and the seduction sweetened, Trev found he'd done will beyond his mission of distracting the Duchess.
My Rating: A
My Review:
I really enjoyed this book more than I thought I could. I normally don't read regency era but this one was so very engrossing I was hard pressed to put it down.
The characters are well developed and easy to like. The supportive characters are even three dimensional and you get a real feel that they could easily be supportive characters in your own life.
The love between the hero and heroine grows genuinely and the obstacles in their relationship are quite believable. What I really loved about this book was the way that the heroine was so open about sexuality, and that it wasn't her hero that awakened this. It made her much more real to me, a lot easier to identify with.
I highly recommend this book as a light and easy read with a nice clean ending, real characters, and a lot of intrigue.