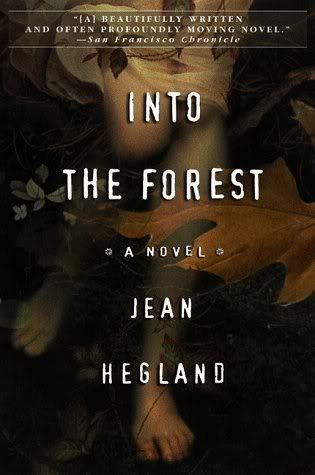 Into The Forest by Jean Hegland
ISBN: 0-553-37961-5
Pages: 241
Back Of Book Description:

Eva, eighteen, and Nell, seventeen, are sisters, adolescents on the threshold of womanhood--and for them anything should be possible. But suddenly their lives are turned upside down, their dreams pushed into the shadows, as sickness and anarchy rage across a country on the brink of collapse. In a time of suspicion and superstition, of anger, hunger and fear, Eva and Nell are left to forage through the forest, and their past, for the keys to survival. They must blaze a new path into the future as pioneers and pilgrims--not only creatures of the new world, but creators of it. Gripping and unforgettable, Into The Forest is a passionate and poignant tale of stirring sensuality and profound inspiration--a novel that will move you and surprise you and touch you to the core.My Rating: A
This novel blew my mind. The writing is so beautiful. Like 241 pages of poetry with a story. The relationship between Eva and Nell is so strong and there's so much emotion that the author writes wonderfully that you feel every fear and joy they do.
There was only one part of the book that bothered me, it was a mere six or so paragraph's. I thought the author put it there for sheer shock value, and don't see how it affected the over all story all that much. But everything else in this book was A+. I highly recommend it for those who like stories of personal growth and the idea of how the world itself could collapse in on itself.