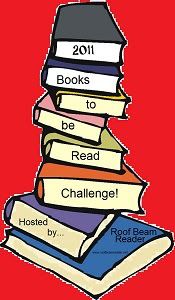 I've decided to join Roof Beam Reader in the 2011 To Be Read Challenge. I'm excited, because as always going through my TBR piles is a little bit like an adventure and a lot like fun. I did find that I own 2 copies of Mort by Terry Pratchett....but that's not a big deal.
So here's my list of 12:
1. The Misenchanted Sword by Lawrence Watt-Evans
2. The Jungle by Upton Sinclair
3. Mort by Terry Pratchett
4. Belle by Cameron Dokey
5. The Wind From Hastings by Morgan Llywelyn
6. The Elder Gods by Daivd and Leigh Eddings
7. Reading Judas by Elaine Pagels and Karen L. King
8. The Secret Supper by Javier Sierra
9. Lewis Carroll: A Biography by Morton N. Cohen
10. Mary: Mrs A Lincoln by Janis Cooke Newman
11. The Memoirs of Christopher Columbus with Stephen Marlowe
12. Chalktown by Melinda Haynes
My Alternates (If a couple of the above listed end up in the 'Can't Finish' pile)
1. 1949 by Morgan Llywelyn
2. Graceland by Chris Abani
So there you have it. My 2011 TBR challenge list. Anyone else going to join? Anyone read the books I have listed above?