To most people, either Friday is the end of the week, or Sunday is. To me, because of the way my work schedule is, Saturday is the end of the week. So I'm going to try very hard to do an end of the week post every Saturday.
This Saturday happens to be Valentines Day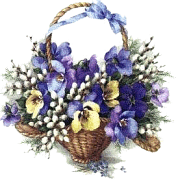 And here is a nice basket of flowers for all of my friends, maybe it will keep us thinking of Spring.
This week has been relatively quiet when it comes to reading. I've been reading slower this month than I did last month, but I usually do all of my reading at work, so since I've been training for my new position, I've not had enough down time to get anything read.
I'm currently reading Fool by Christopher Moore, and really quite enjoying it. I'm impressed by the humor (as I normally am by Mr. Moore) and by the fact that it is also a slightly serious story, full of intrigue.
I'm looking forward to starting Monica McCarty's latest book Highland Warrior next, and then onto my chunkster for the month, The Riven Kingdom by Karen Miller.
I'm setting a new goal for myself by trying to save a bit of money by buying less books and getting more from the library. Now that I have a more defined taste and a HUGE wish list on Paperbackswap.com, I know what I'm looking for. No sense going out and buying them all, while I'd love to give deserving authors their money, I'd also like to be able to keep some of mine for myself.
And finally, a beautiful graphic for the end of the week. I found this on
some site
, and have decided to share it with all of you!
Reminds you of a nice warm day, doesn't it?
Have a great week everyone!