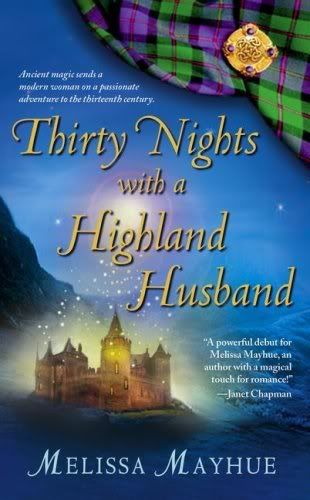 Thirty Nights With A Highland Husband by Melissa Mayhue
ISBN: 978-1-4165-3286-6
Pages: 356
Back of Book Description:
Scotland, 1272. Connor MacKiernan, a descendant of the Fae Prince, is a warrior who lives only for honor and duty. Though he's vowed never to marry, that's exactly what he must do to save his sister. Enter a little Faerie magic, and the search for a bride is on.

Denver, 2007. Caitlyn Coryell is having a really bad day--she just discovered her fiance with another woman! Imagine her surprise when she puts on some sexy lingerie and an antique pendant and Connor appears in her bedroom, begging for her help. He offers a simple yet outrageous adventure: travel to his time, marry him, and return home.

But nothing's simple when Cate is trapped in the thirteenth century. The wedding's delayed, someone's trying to kill her, and in the middle of all of this she realizes she's falling in love with a man who can only be her husband for thirty nights.


My Rating: A
My Review: A


This is a great love story! I fell in love with these characters quickly, especially the hero. The author really brought her world to life and used an interesting legend to help the story along. All of the secondary characters were interesting and easy to care about.

I did have issues with about the last twenty pages of plot. Some was too lightly explained and I felt that one thing wasn't explained at all. I loved the writing though and the story, so I can handle the short comings. I recommend this to those of you who like Sandra Hill and Karen Marie Moning's time travel. I can't wait to read the rest of Miss Mayhue's work.